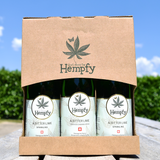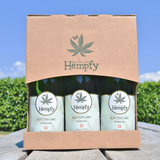 Hempfy bitter lime premium cannabis tonic, 250 ml, box of 6 glass bottles
---
Sold Out
---
---
Product Description:
Box of 6 glass bottles of Hempfy bitter lime premium cannabis tonic (glass bottle - 250 ml).
Hempfy premium cannabis tonic has great herbal taste due to direct infusion of fresh hemp. Small batch, artisanal production.
The beverage is made from natural ingredients and based on innovative infusion technologies. It can be easily combined with other drinks or used as a part of daily lifestyle.
Hempfy premium cannabis tonics are giving invigorating and refreshing sense of well-being.
Ingredients
Fresh Hemp Infusion, fructose, natural flavouring, citric acid. Carbonated. Hempfy Bitter lime hemp tonic is produced in Switzerland.
Use
Drink fresh to top up during the day. To diversify the usage, you can put the bitter lime drink into cocktails. Take a look at our recipes.
Enjoy chilled!